Consulate of Hungary in Geneva
Consul:
Lenke Szászfalvi-Farkas 
Consular district:
Cantons of Geneva, Vaud and Wallis
The consulate offers the following services:
- protection of interests of Hungarian citizens
- legalisation of signatures copy and translation
- permanent private passport
- ID Card
- provisional private passport (We kindly ask our Clients - until further notice- to bring a color, passport sized 3,5 x 4,5 cm photo meeting the ICAO specifications)
- civil status certificate
- request for extract of civil status certificate
- certificate of no criminal record
- registration and activation of governmental client gate
You can pay exclusively by debit/credit card (with the exception of Post Finance) during the administration.
Address and contact:
Address: Rue du Grand-Pré 66. (6th floor), CH-1202 Geneva
Telephone: +41-22-908-06-26
E-mail: consulate.gva@mfa.gov.hu
Opening hours:
Please note that consular services are available by appointment only.
Please book an appointment in advance via our online appointment system:
https://konzinfobooking.mfa.gov.hu
Attention!
In case of delay you might be asked to book a new appointment and come back later.
We are only able to let the person in who is directly involved in the administration (an adult can accompany a minor).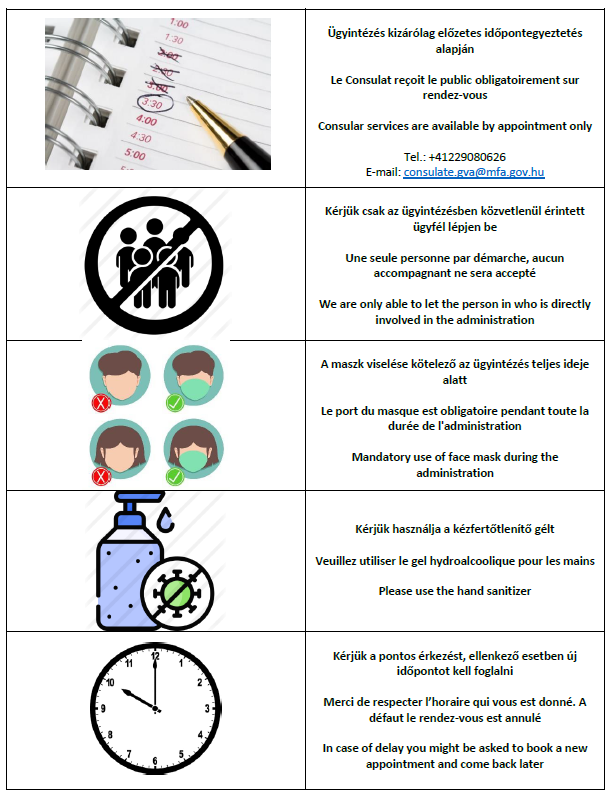 The consulate remains closed on the following holidays (as in Hungary and in Geneva Canton):
- 1 January – New Year's Day
- 15 March – Memorial Day of the 1848/1849 Revolution and Freedom Fight)
- Good Friday
- Easter Monday
- 1 Mai – May Day
- Ascension Day
- Whit Monday
- 1 August – Swiss National Day
- 20 August – Hungarian National Day
- Jeûne genevois
- 23 October – Memorial day of the 1956 Revolution and Freedom Fight
- 1 November – All Saints Day
- 25 December – Christmas I.
- 26 December – Christmas II.